Galaxy Note 10.1 comes with a built in stylus called D-pen which makes it very unique when compared to other Android tablets. Using the D-pen, you will be able to write on the PDF pages. I tried the Kno app but it kept crashing – something that I did not wanted.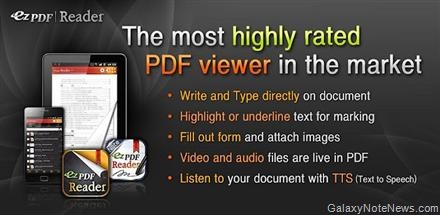 The app I recommend using is EZ PDF [link]. It is very fast and is even usable for drawing things on the screen with either finger or stylus. Repligo [link] is another app that does the same thing, but I prefer the former.
Some have suggested Adobe Reader [link] but I have become allergic Adobe readers lately. Unlike the above two (EZ and Repligo), Adobe is free though.