First Galaxy Note 10.1 reviews are in and most of them are pretty, well, except for the Gizmodo, as expected. Gizmodo did not like the Galaxy Note phone (N7000) and we expected this.
Engadget says,
It's been a long time — six months, to be exact — since Samsung first gave birth to the Galaxy Note 10.1. Our initial reaction was one of intrigue; a risky bet we were eager to see play out in final form, especially given stiff competition from various quad-core competitors. So, does the Note 10.1 manage to overcome its well-matched rivals and carve out its own spot in the crowded tablet space? Ultimately, no matter how deftly executed and streamlined the S-Pen experience may be, this tab still feels like a niche device, especially since the suite of compatible applications is still pretty small. This is the sort of purchase early adopters and creative professionals are likely to make based on their familiarity with Android and the additional flexibility afforded by that stylus.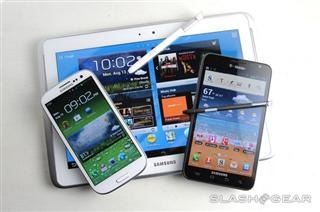 Gizmodo says:
The S Note app could have set this tablet apart, but it's a failure. On the handwriting-to-text feature, only really large letters come out clearly, so you get three or four words per line. It doesn't always ignore your palm resting on it while you write. You accidentally close out of the app, move the cursor unintentionally, or just stop writing. In landscape mode, there are gigantic spaces on both sides.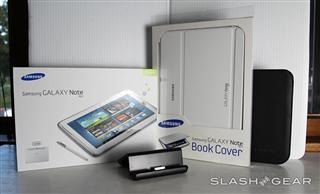 Here are what the people at xda are saying:
The micro SD card is fast compared to the Asus TF700
I love the speaker placement and you really hear the stereo separation.
The design is lovely specially in white.
Although the LCD has a lower resolution it still very bright with very good color saturation , never at all miss my tf700 higher dpi .
Build quality is very good , fit and finish is perfect.
No light bleed .
No slowdown even with multiple apps running on the background made possible by the built in 2gb system memory. This in my opinion the only tablet that can really compete with the iPad . Overall I'm a very happy camper.
Slashgear says: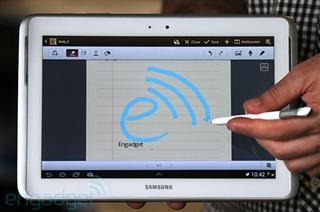 This tablet-like device, the Samsung Galaxy Note 10.1, is Samsung's best effort to date in the 10-inch category of devices. You've got a fabulous 10.1-inch HD display as well as some excellent front-facing speakers, making this one of the top entertainment devices in tablet form on the market. With the Samsung Exynos quad-core 1.4GHz processor under the hood, you've also got the power to work with beastly apps like Photoshop Touch, to play videos at full HD, and to blast your enemies to oblivion in the most high-end games on the market.
So, most of the reviews suggest buying them. Most of them say that this is the best and first Android tablet that has the capability to stand head to head in the tablet market dominated by iPad.