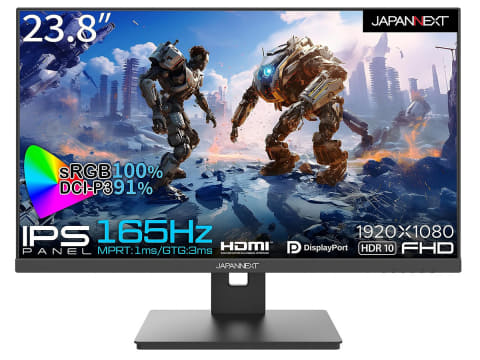 Japan Next, a company from Japan has launched two 23.8-inch IPS gaming monitors – JN-238i165FHDR and JN-238i165FHDR-HSP that support 1,920 x 1,080 pixels full HD / 165Hz refresh rates. Available exclusively on Amazon for 135 USD and 150 USD respectively.
Both of these IPS gaming monitor panels support full HD/165Hz display; MPRT response speed of 1 ms / intermediate color 3 ms, sRGB color gamut 100% and DCI-P3 color gamut 91%.
The Japan Next JN-238i165FHDR-HSP has a tilt angle of -5 to 15 degrees, a swivel of 30 degrees left and right, and a stand that can be raised and lowered 120 mm.
Other specifications of this IPS gaming monitor include a brightness of 300cd/m2, a contrast ratio of 1,000:1, and a viewing angle of 178 degrees both vertically and horizontally. The interface selection includes HDMI 1.4 × 2, DisplayPort 1.2. Built-in 2W + 2W stereo speakers.
Body size and weight of these IPS gaming monitors are 541 x 185 x 404 mm / about 3.5 kg for JN-238i165FHDR and 541 x 220 x 400 to 520 mm / about 4.5 kg for JN-238i165FHDR-HSP.