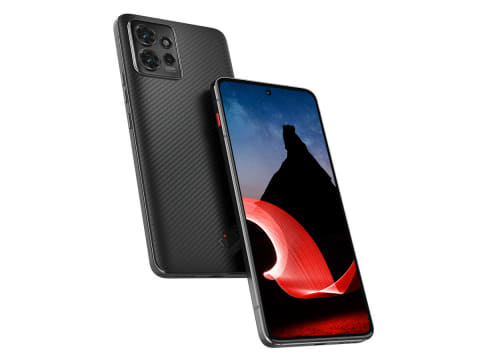 Motorola under the umbrella of Lenovo has annoucned ThinkPhone for businesses. Lenovo ThinkPhone is a model commemorating the 30th anniversary of ThinkPad's birth, and its attractive point is the black and red design that follows the flow of ThinkPads. Sales are expected to begin in the United States, Europe, South America, the Middle East, Australia and several countries in Asia within the next few months.
In addition to the design aspect, Lenovo ThinkPhone features a security platform called ThinkShield to ensure our own security. In addition, based on the hardware-based security solution Moto Threat Defense that uses AI technology, everything from software to hardware can be managed comprehensively via Moto OEMConfig and Moto Device Manager.
In addition, Lenovo ThinkPhone is equipped with a separate security processor Moto KeySafe, which adds an extra layer of protection for sensitive data. Security is enhanced by isolating PINs, passwords, and encryption keys in a tamper-resistant environment.
As hardware, Lenovo ThinkPhone has robustness compliant with MIL-STD-810H, and adopts aircraft grade aluminum, lightweight aluminized fiber, Gorilla Glass Victus, etc. It has drop resistance from 1.25m and IP68 compliant waterproof performance.
Think 2 Think is advertised as a link with the ThinkPad series, Instant Connect that allows seamless connection to a PC via Wi-Fi, and Unified Clipboard that allows seamless copy and paste between PCs and smartphones. , Unified Notifications" that allows you to receive smartphone notifications from your PC, File Drop" that allows you to easily share files, App Streaming" that allows you to run Android apps on your PC, and Advanced Webcam" that uses your smartphone as a webcam. Available.
In collaboration with Microsoft, in addition to pre-installing Microsoft 365, Outlook and Teams apps, you can use push-to-talk and more via ThinkPhone's iconic red key.
In terms of Lenovo ThinkPhone specifications, it comes with Qualcomm Snapdragon 8+ Gen 1 mobile platform, support for 5G and Wi-Fi 6E, installation of 6.6-inch FHD+ display, driving time of over 36 hours, 50 million pixel camera, 68W TurboPower charger. correspondence etc.