Microsoft Surface Laptop Go is an entry-level notebook positioning, 4+64GB (eMMC) version starts at 549.99 US dollars. In terms of configuration, the Surface Laptop Go has a 12.4-inch 1536×1024 resolution (3:2) display, and the whole machine weighs only 1.11kg, which is lighter than the Apple MacBook Air.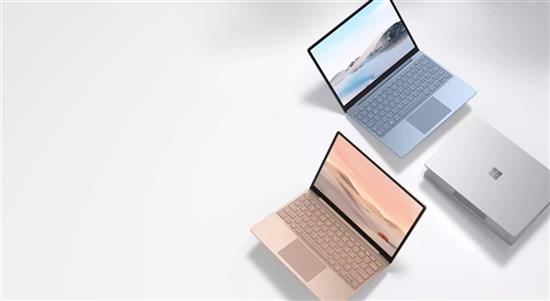 In terms of basic parameters, the built-in 10th generation Intel Core i5-1035G1 processor, 10nm process , external interfaces include a USB-C and a USB-A, headphone jack and Surface Connect charging port, which can charge 80% of the power in 1 hour.
In particular, except for the basic model of US$549, the other mid-to-high models have integrated fingerprint recognition in the position of the power button. This may be because the front 720P does not support Windows Hello face recognition authentication.
Available in gold, blue, sandstone grey and blue, orders will be accepted today in Europe and the United States, and will be available on October 13.
It is reported that the 8+128GB SSD version is priced at US$700, and the 8+256GB SSD version is priced at US$900.
In addition, Microsoft has also updated a number of accessories for the Surface Laptop Go, the designer keyboard is $69.99, the digital board is $24.99, and the 4K wireless display adapter is $69.99.