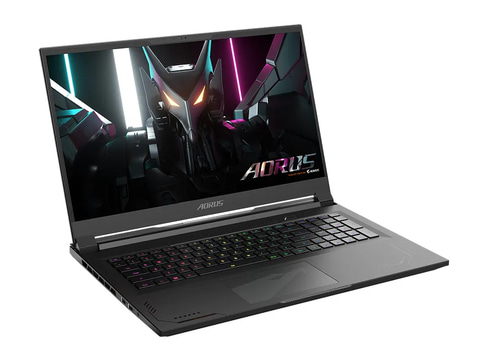 GIGABYTE has just released a high-performance gaming laptop. Called the AORUS 17X AZF-C5JP665JP, it features an Nvidia GeForce RTX 4090 dedicated GPU and is expected to be around 4978 USD.
Gigabyte AORUS 17X AZF-C5JP665JP is equipped with Nvidia GeForce RTX 4090 GPU with 16GB of dedicated memory, which is NVIDIA's flagship model. With a maximum power consumption of 175W and a boost clock of 2,040MHz, it delivers the best graphics performance. The CPU is equipped with Intel Core i9-13950HX, which is the top of the 13th generation Core for mobile. It has a 24-core/32-thread configuration that combines 8 P cores and 16 E cores, making it suitable for workstation applications.
The housing of GIGABYTE laptop uses large-area CNC milling metal processing technology, and a spaceship-like structure with a reinforced chassis enhances durability and texture. It also features RGB lighting and a patented rainbow logo design. The design of the original cooling function WINDFORCE Infinity has also been reviewed, and the vapor chamber with an expanded area has improved performance by 35% compared to the conventional model.
The Gigabyte AORUS 17X AZF-C5JP665JP's keyboard is equipped with a USA keyboard layout AORUS Fusion RGB Independent Backlit Keyboard that allows you to customize the colors and lighting effects individually for each application.
Other Gigabyte AORUS 17X AZF-C5JP665JP specifications include 32GB memory, 1TB NVMe SSD x 2 storage, 2,560 x 1,440 pixels / 17.3-inch LCD display compatible with 240Hz display, and Windows 11 Pro for OS.
Interface of Gigabyte AORUS 17X AZF-C5JP665JP include Thunderbolt 4, USB 3.1 x 3, HDMI 2.1, Mini DisplayPort 1.4, Wi-Fi 6E compatible wireless LAN, Bluetooth 5.2, wired LAN, full HD compatible web camera, audio input and output. The battery is 99Wh. The body size is 396 x 293 x 21.8 mm, and the weight is 2.8 kg.
In addition, this Gigabyte gaming laptop comes equipped with Intel Core i7-13700H for CPU, 16GB memory, 1TB NVMe SSD for storage, Nvidia GeForce RTX 4080 Laptop, 1,920 x 1,080 pixels 360Hz display compatible 17.3-inch liquid crystal display, and runs Windows 11 Pro OS.