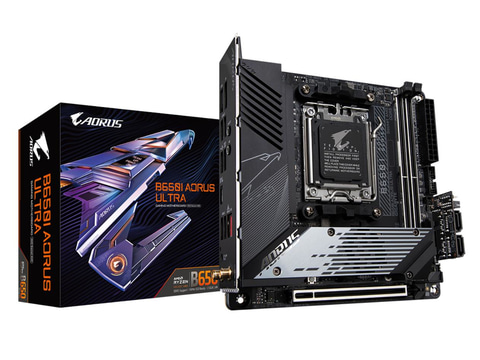 GIGABYTE has released the Mini-ITX motherboard, B650I AORUS ULTRA which is equipped with AMD B650 chipset and supports Ryzen 7000 series CPU. The price is expected to be around 440 dollars which is great for a gaming motherboard this small.
Although GIGABYTE B650I AORUS ULTRA is Mini-ITX, it has a power supply circuit that uses 105A SPS and has an 8 + 2 + 1 phase configuration. In addition, it is equipped with a large heat sink for VRM, a heat sink for M.2 SSD Thermal Guard III, an easy-to-press PCI Express slot latch EZ-Latch, and Q-Flash that can update BIOS without a CPU. Features include the adoption of Plus. It also comes with a 6-month broken pin warranty on the CPU socket.
The storage interface on GIGABYTE B650I AORUS ULTRA is SATA 6Gbps x 4 (daughter card), M.2 x 3 (one of which is front, two are rear). The expansion slot is PCI Express 4.0 x16.
The rear interface of GIGABYTE B650I AORUS ULTRA includes USB 3.1 Type-C, USB 3.1 x 2, USB 3.0 x 2, USB 2.0 x 2, 2.5 Gigabit Ethernet, DisplayPort, HDMI output, Wi-Fi 6E (RZ616), Bluetooth 5.2, voice input/output, etc. It also has a USB 3.2 Type-C connector for the front panel.