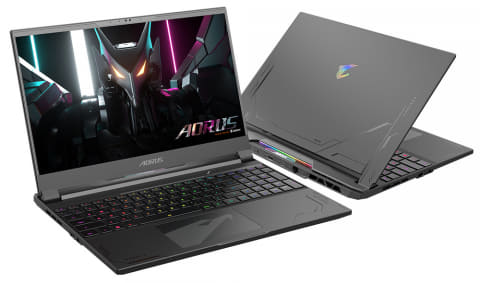 Gigabyte will release the gaming laptop AORUS 15X equipped with the 13th generation Core processor and the Nvidia GeForce RTX 40 dedicated GPU. Also to be released are the new AERO 14 and AERO 16 series of laptops for creators.
Two models of AORUS 15X have been introduced, both of which use Nvidia GeForce RTX 4070 GPU have been made official. In addition to being equipped with a large-area CNC metal processing chassis, the original cooling mechanism, WINDFORCE Infinity has been redesigned to achieve quiet and stable operation.
In addition, the LCD on the AORUS 15X uses a 2,560 x 1,440 pixel / 240Hz display panel, and the original AI EyeCare technology automatically adjusts the screen brightness according to the surrounding lighting environment to reduce eye fatigue. The keyboard is backlit and has an English layout that allows you to customize the colors and lighting effects of all keys individually.
The top variant of AORUS 15X, the ASF-B3JP654JP is equipped with a Intel Core i9 13900HX CPU, 16GB DDR5-5600 memory, 1TB NVMe SSD for storage, and Windows 11 Pro for OS.
The lower variant, ASF-83JP654JH is equipped with a Intel Core i7-13700HX CPU, DDR5-4800 memory 16GB, a 1TB NVMe SSD for storage, and Windows 11 Home for the OS, and the actual sales price is expected to be around 2447 USD
Interface selection of AORUS 15X includes Thunderbolt 4, USB 3.1 x 2, Mini DisplayPort 1.4, HDMI 2.1, Gigabit Ethernet, Wi-Fi 6E, Bluetooth 5.2, 1080p / face authentication compatible web camera and voice input/output jacks.
The battery is 99Wh. The body size is 357 x 274 x 19.7 mm, and the weight is 2.6 kg.