Telstra is offering a free Samsung Galaxy Gear smartwatch to those customers who pre order the Galaxy Note 3 phone on certain 24 month contracts. This offer is available to only those people who pre order it via Telstra's website. Also, you to enroll yourself under plans where you have to shell out $80 or more.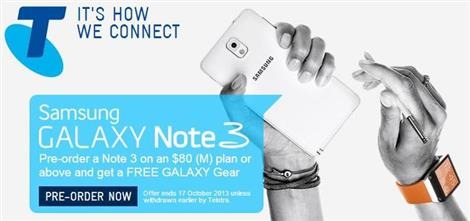 So, for instance, let's say, you go for the Telstra's 80 dollar Every Day connect plan. Then, you would be paying additional $8 monthly phone charge for 24 months, bringing the total to $88 / month. This plan will give you $800 worth of calls, MMS messages, unlimited SMS messages and 1.5 GB of data per month as well.
The network provider will also be selling the Note 3 for $7 a month on its $100 plan ($107 per month), and for $6 a month on its top $130 plan ($136 per month).
The Galaxy Gear only works with Note 3 and Note 10.1 2013 tablet. Without this offer, it will retail for AU$ 369. This offer is valid till October 17, 2013. The phone is also available on Optus, Vodafone and Virgin Mobile in Australia, and Vodafone.