Samsung released the Note 10.1 tablet with Android 4.0.4 ICS. While it has promised that Jelly Bean Android 4.1 will be released in Q4 2012, you can taste Jelly bean, at least some of its elements by flashing the JellyICS ROM.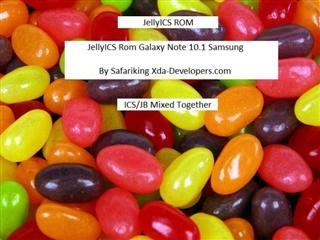 Here are its features:
– Jelly Bean Fonts
– Jelly Bean Boot animation
– Jelly Bean Sounds
– Jelly Bean Animations
– Themed To Jelly Bean
– Heavily Cleaned Up
– Custom Boot animation Support
– Pre-Rooted, yes, no need to root your Note 10.1 after flashing it.
– Rooted, De-odexed, Zip aligned
– Over 200 Mb's removed
Download the firmware – link. Here is how to install it:
– Download the Rom from the link given above
– Put It onto your SD card/Tablet
– Go into CWM Recovery (press volume up and power button. It will reset. Let go of power but keep the volume up button pressed. You will boot in recovery mode.)
– Install the Rom from there.
– Wipe everything
– Reboot
This firmware is only meant for N8000 tablet. Update – official Jelly bean OTA for Galaxy note 10.1 has been leaked.