Erafone, a popular phone retailer has started taking pre-orders for the Galaxy Note 2 in Indonesia. Samsung is offering massive cut in official price there – Rp7,499,000 ($780) to Rp5,299,000 ($550). The discount can only be availed by those who are willing to pay via credit card installments for 12 months (at 0 percent interest rate). Also, you need to have credit of one of these companies – BCA, BNI, Mandiri, or Citibank.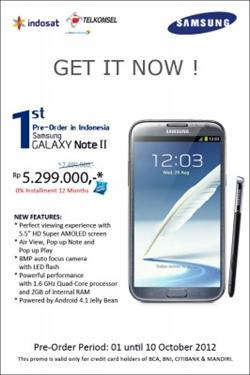 Telkomesel and Indosat will be offering it on contract of 12 months for Rp200,000 ($20) every month. Under Indosat, you will be able enjoy 4GB of 3G bandwidth and 1800 minutes to other Indosat users.

If you go for Telkomsel, contract price is Rp250,000 ($26) every month for 12 months. This will also give you 4GB of data, 175 minutes of free calls, 10 minutes of International calls and 350 SMS.
Down payment for both carriers is Rp500,000 ($52) and pre-orders will start on October 10, 2012. Shipment will commence between Oct 12-21. Erafone already has a pre-order page on their site.