We have been informed about the Android 7 Nougat ROM for the Samsung Galaxy Note 2 N7100 android phone. This ROM is based on AOSP which means there is no Samsung TouchWiz user interface. This is great for those who are looking for vanilla experience on their android phone. Substratum is fully compatible.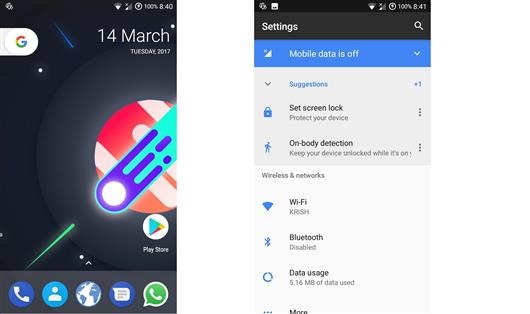 Keep in mind that the first boot will take some time and it might even loop for few times. Just make sure not to use any custom kernel with this Android 7 Nougat ROM.
Keep in mind that there is no default music player onboard so use something like blackplayer, folder player or musixmatch.
Instructions for flashing:
– Download ROM and GApps.
– Copy ROM and GApps to internal storage.
– Wipe /data, /system and /cache.
– Flash ROM and GApps (And any mods you use)
– Enjoy 😛
Instructions for update:
– Download ROM and GApps.
– Copy ROM and GApps to internal storage.
– Flash ROM and GApps
Everything is working out of box and there are no known bugs. This makes this Android 7 Nougat ROM excellent for everyday use. This is the best Nougat ROM.
Feature list.
Based On AOSP 7.1.1_r25:
Blur customizations
LED customizations
Substratum theme engine (OMS7)
Latest OMS Rootless Support with Float UI/Theme Interfacer
Navigation bar:
Dynamic navbar color
Smartbar customizations
Fling & Pulse
Hardware keys:
Volume keys control media volume
Volume button wake
Music control
Volume button swap
Volume key cursor control
Power + volume up behavoir
Volume down for do not disturb
Volume up in do not disturb
Do not disturb switch
Navigation key customizations
Disable navigation buttons
Lockscreen:
Center screen Shortcuts
Longpress shortcuts
Lockscreen swipe shortcuts
Lockscreen weather
Double-tap to sleep
Lockscreen torch
Lockscreen charging info
Lockscreen Music Visualiser
Notification drawer:
Quick pulldown
Smart pulldown
Force expanded notifications
Disable brightness slider
Disable quick settings when locked
QS tile titles
Small QS Tiles Scrolling
Advanced QS Easy Toggle
QS tile row/column count
Custom header image
Status bar:
Battery styles
Custom carrier label
Clock settings
Ticker
Network traffic
Status bar icons
Double-tap to sleep
Slide brightness control
Notification count
Bluetooth battery status
Recents:
Hidden apps
Memory bar
Immersive Recents
Clear all button
Omniswitch
It is nice to see the old N7100 still being supported by XDA community.