Brand new Zimi No 20 mobile power supply is here, with a further increase in capacity and power, and the price is 399 yuan which is about 60 USD. The Zimi No 20 mobile power bank has a large capacity of 25000mAh, which can be used on airplanes and can charge iPhone SE 8 times or MacBook Pro 1.3 times. This makes sense since the battery size of iPhone SE 2020 is so small and battery life is so horrible.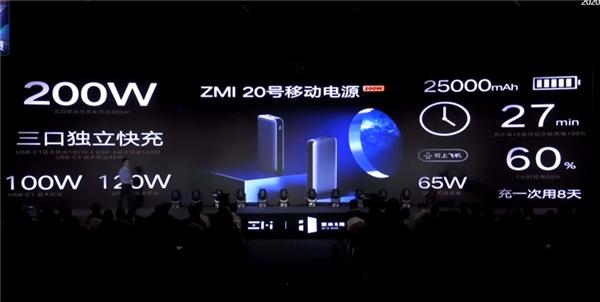 At the same time, the USB port of the Zimi No 20 mobile power supply supports 120W output, which is the only mobile power supply in the world that supports 120W fast charging of the Mi 10 Pro Extreme Edition. It has two Type-C interfaces, one supports 100W and the other supports 45W , which can charge almost all Type-C interface notebooks on the market.
At the same time, it supports 65W self-charging, which can be fully charged within 2 hours.
At the end of 2016, the Zimi No. 10 mobile power bank was released with a power of 45W. In the era when the high-power USB PD fast charging market was immature, Zimi 10 was a product with advanced design.
In August 2019, Zimi 10 ushered in the follow-up updated version-Zimi 10 mobile power Pro, 20000mAh battery capacity, power increased to 65W, better for charging laptops.