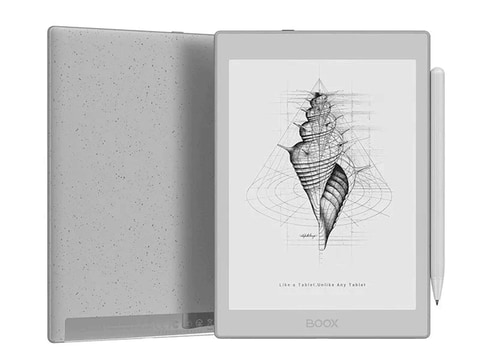 SKT Corporation released ONYX International's Android-equipped 7.8-inch E Ink tablet BOOX Nova Air2. The price is expected to be around 365 USD. While inheriting the 7.8-inch feature of the conventional BOOX Nova Air, the CPU is upgraded – the model number is not disclosed, but it is for sure Qualcomm's 8 cores. In addition, the OS is Android 11, and the housing design has become sophisticated compared to previous iterations.
Since Android is used on it, BOOX Nova Air2 can be used as a reader for various e-book stores, and can support e-book formats such as PDF, EPUB, MOBI, and DJVU. Equipped with physical volume buttons, some e-book apps can turn pages. You can also use the built-in speaker or wireless earbuds to listen to audiobooks or use the Text-to-Speech service.
BOOX Nova Air 2 Review
A stylus called BOOX Pen Plus is included and can be carried by attaching it to the side of the main unit. It features 4,096 levels of pen pressure and ultra-low latency, and you can write directly to PDF with the built-in NeoReader application. The BOOX Pen2 Pro, which has a function that becomes an eraser when turned over, is also available as an option.
Other BOOX Nova Air2 specifications are 3GB (LPDDR4X) memory and 32GB eMMC storage. The display is a 7.8-inch E Ink Carta that supports 1,872 x 1,404 pixel display. Interfaces include USB Type-C, IEEE 802.11ac compatible wireless LAN, Bluetooth 5.0, etc.
The back of the main unit is made of magnesium alloy. The body size is 136.5 x 194 x 6.3mm, and the weight is 235 grams.