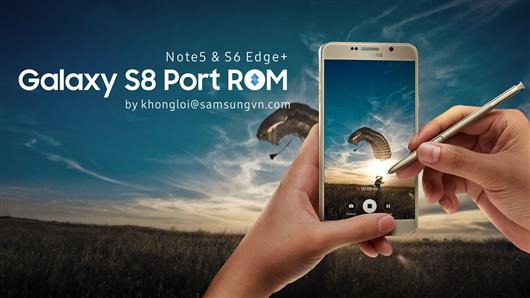 An XDA developer user has ported entire ROM of Samsung Galaxy S8+ to Note 5. Supported Note 5 models include N920T/W8, N920CIG, N920CD, N920SKL and N9208. Despite being a third party firmware, everything is working as expected. This is the latest Android Nougat firmware with all security patches. The developer has added in his own mods too that include:
* AOD brightness control (2 state)
* Show/hide Power Menu on Lockscreen
* Enable/Disable Safe Volume Notification
* Show/hide Keyboard Switching Notification Icon
* Battery options
* Some features include enable/disable fingerprint wakeup, persistent notification, notification reply directy on lockscreen
* more features will come later
* virtual button option
CSC/OMC collection has been updated and modded for XXV, ATT, TMB, INS, TEL, RWC, XID, KTC, ITV, PHN, DBT, PAK, TUR, BRI, XME, XEF, THL and BTU.
How to install the ROM:
– Download ROM, Kernel, OMC-CSC
– Prepare yourself to not get lost of available aroma options.
– Know well your operator CSC/OMC code. Boot into Note 5 TWRP.
– Install ROM
– Install CSC/OMC and choose right one
– Then install Kernel (because aroma do not support file larger than 2GB).
– Full wipe required.
– If you see kernel is not seandroid enforcing, it is normal because I use new selinux stuffs. Nothing to worry.